RAINBOW BRIDGE
There is a pretty place up in the sky,
Where special animals go when they die.
A place to stay and wait all day
Until their master comes their way.
For some the wait is short and sweet,
For others time drags on leaded feet.
Row upon row by heaven's gate
The noble, furried creatures wait.
For a certain footstep that they know,
For a certain voice to say, "Let's go."
And so you left us on this day
For a place of no pain, to run, to play.
But keep your eyes upon the gate,
I'll try not to be late.
I'll softly call your name and then,
Together, life will be good again.
— "Doc" Frank G. Nuanes.
---
---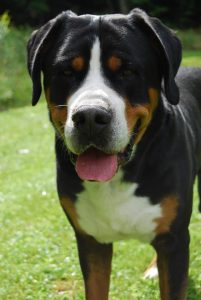 BISS GCH CH Swiss Run's SD Patriot, CGC, NWPD
Riot was our best show boy from out first litter, SUV litter.  He was a big, goofy boy who will be terribly missed.  Riot fathered two litter our "Fishing" litter then a litter of three our of Gretta.  He was a great show dog and sparkled in the ring.  He was taken from us way to suddanly, but we will cherish all our memories.
---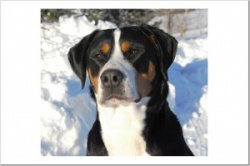 CH Suddanly Swiss Runs Pride, ROM, CGC
Our girl Miss Essa was a very entertaining girl. She was always doing something crazy for a good laugh. She was an attention hog and would do anything or go up to anyone for an ear scratch. Essa was our foundation bitch and blessed us with three beautiful litters. We are very fortunate for the time we had with her and the joy she brought us and puppy families. We will miss you. She was from suddanly swissys.
---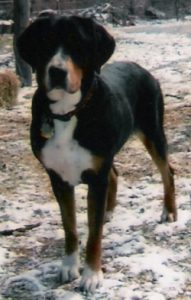 Vixen
We rescued Vixen when she was 2 years old. She was a happy and fun loving girl. When she was four she had a spleenic torsion and 6 months later she passed away.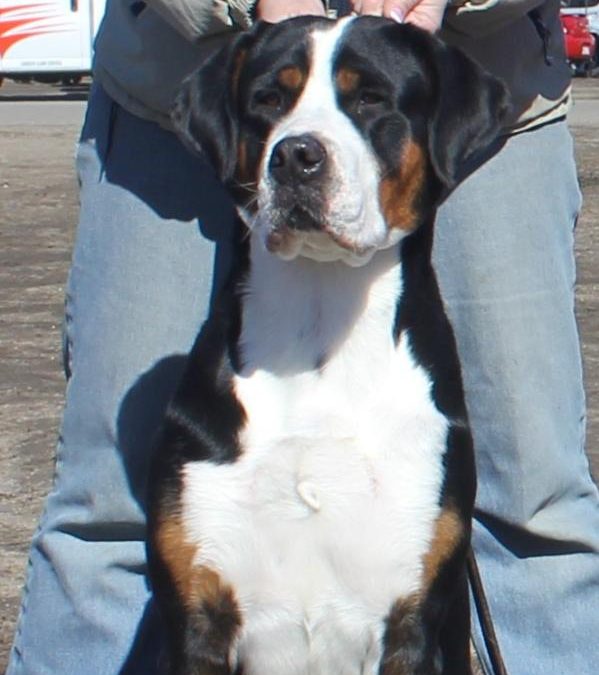 CH Swiss Run's Black Bear ROM Eclair is out of Rasta and Mader. RETIRED
6 Puppies 3 Boy 3 Girl (VT) litter 10/20/2014 (3 Champion)
5 Puppies 1 Boy 4 Girls (Niquette Bay) Litter 5/20/2016 ( 3 Champion)
8 Puppies 3 Boys 5 Girls (Space) Litter 12/10/2017
| | |
| --- | --- |
| Whelped- 2/10/2012 | Owner- Deanna Never andEvan Davis |
| Sire- BISS GCH. Shadetree's Madura, CGC | Breeder- Deanna and Ben Never |
| Dam- CH. Swiss Run's Miss Scarlett | |
| Fit Weight- 24 months 93# | 3/14- New Champion |
| Height- 24 months 24 1/2 inches | |
Health Clearances-
| | |
| --- | --- |
| OFA Hips- Fair | OFA Elbows- Grade 1 Right Elbow Left Normal |
| OFA Shoulders- Normal | DNA- |
| Eye Cerf-SMH-EYE8- Normal | Heart Cerf- |
| CHIC#-1007632 | Brucellosis- Negative |
| P2Y12- Clear | |
Eclair is a sweet and fun young girl. She has a great future ahead of her with hopes of one day passing her qualities onto her offspring. Most of all she is a great friend and companion.
Structure:
Eclair is a medium-sized, balanced, and an athletic girl. She is drafty yet elegant. She has a good topline, front, and a solid rear. I would like to see a little stronger rear. Eclair has a short thick coat with a black undercoat on her body and grayish brown undercoat on her neck. Her colors are very clear and rich. Eclair has a beautiful and feminine headpiece.
Movement:
Eclair has nice movement with reach and drive. She has a sturdy, but elegant build.
Temperament:
Eclair has a fun and outgoing personality. She is friendly after meeting new people. She loves to play with children, puppies, and small breed dogs. She is very motherly. She deals very well with new and different situations. She will not go looking to get into it with other dogs she rather stick to herself and be a little independent.
BISS GCH Shadetree's Madura

(PennHip 50%, normal elbows, shoulders, heart, and eyes, CHIC)

ch Polyanna's Fynnagan (Hips- Good Elbows- Normal, eyes, CHIC)
CH. Macarea Sudly Hoochie Man (OFA Fair, normal elbows)
CH. Polyanna's Vegas V Keno (OFA Good Elbows Normal)
CH. Rippling Water's Jordan (OFA Excellent, Normal elbows)
CH.Painted MTN Secretariat (OFA Excellent Elbows- Normal)
CH.Rippling Water's Garland

(OFA Hips-Excellent, Elbows, Normal, cerf)

CH. Swiss Run's Miss Scarlett (OFA Good, Normal elbowss and shoulders, eyes)
CH. Shadetree's Green Eggs And Ham (OFA Good, Elbows Normal eyes)
CH.Suma-Shadetree Your Hired!

(OFA Excellent, eyes)

CH. Shadetee's Diamond Ring(OFA Good normal elbows)
CH. Swiss Run's SD Denali (OFA Good, normal elbows and shoulders, normal eyes)
BISS Ch. Fallen Oak Araphoe Bruno (OFA Hips Good Elbows normal)
Ch.Suddanly Swiss Runs Pride (OFA- Good normal- Elbows)